Local Special Foods
Iga Beef
Iga beef comes from beef cattle raised in Iga.
It is slightly expensive, just like Matsusaka, Kobe or Yonezawa beef. However, as Iga beef is mostly consumed mostly in Iga, it has become an almost "fantasy beef" that can hardly be enjoyed elsewhere.
The following are some of the restaurants where you can enjoy good Iga beef. It is also available at butcher shops.
Kanaya
Website    *only in Japanese
Moritsuji
Website    *only in Japanese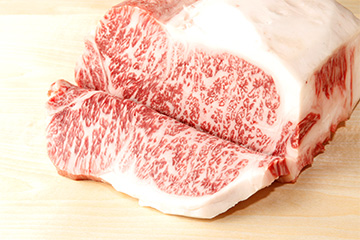 What is Sukiyaki?
Cook beef and vegetables with sugar and soy sauce.
Dip in clean, freshly beaten raw egg, and enjoy.
*There are restaurants that offer not only sukiyaki but also other beef dishes such as "shabu shabu", in which thin-sliced beef is boiled and eaten with "sesame" or sour "ponzu" dipping sauce, "gyu-don", a rice bowl topped with sukiyaki beef, or steak.
Please ask for details at the information centers or hotels.
Iga Sake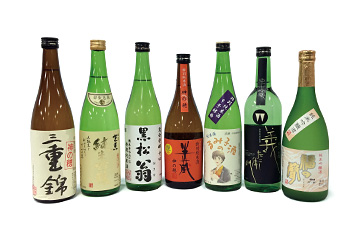 Sake is a traditional Japanese alcoholic beverage made from fermented rice.
Blessed with high quality water and favorable natural conditions, Iga is also a sake-producing region.
There are several breweries in Iga, each of them which produces and sells sake with its own unique taste.
Moreover, the taste of sake varies from brand to brand even in the same brewery.
Enjoy trying the many different brands and appreciating the difference.
You can enjoy sake chilled, or "kan", meaning it is served slightly warmed.
Major Iga sake brands include the following:
Hanzo (Ota Brewery)
Mie Nishiki (Nakai Brewery)
Haisei Basho (Hashimoto Brewery)
Fuku no Koe (Fukui Brewery)
Rumiko no Sake (Moriki Brewery)
Kuromatsu Okina (Morimoto Senuemon Shoten Brewery)
Gizaemon (Wakaebisu Brewery)
Iga Rice
Iga rice has ranked top grade in the Japan Rice Contest.
There is Lake Biwa which is the largest lake in Japan on the north of Iga.
In earlier times, Lake Biwa was located in Iga, and gradually shifted north.
The nutrient-rich clay soils of the lakebed combine with the delicious water from the upstream Kizu-gawa River and climate unique to a basin region with large seasonal temperature fluctuations, to create an environment perfect for growing good Iga Rice.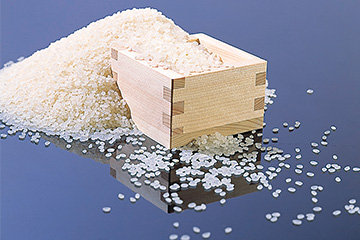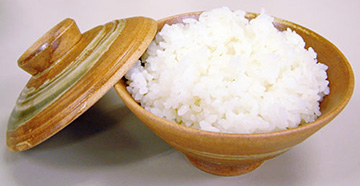 Japanese rice is not long-grain rice such as Indica but a type that becomes moist and sticky when cooked.
Other Local Specialties in Iga
Japanese Sweets
Japanese sweets are made following traditional recipes.
They look delicate and beautiful, and most of them are sweet.
Iga has many Japanese sweets shops with long histories.
Please enjoy a stroll through the town and finding these shops.
Tofu Dengaku
Grill tofu (very soft food made from soybeans) on a wooden skewer and eat with miso (fermented soybean paste)
Katayaki
Katayaki are sweets made from flour and sugar, and are said to be derived from a ninja's portable rations.
It is like an extremely hard cookie unique to Iga. It is said to be the hardest cookie in Japan, and as such is sometimes sold with a wooden hammer to crack the cookies with. It is light and lasts long, making it the most popular gift in Iga.
Tsukemono (Pickles)
Tsukemono are salty fermented vegetables, etc. that go well with rice.
Iga's Local Special tsukemono includes Yokan-zuke and Igagoe-zuke made of a gourd. It goes well with ochazuke (rice with green tea poured over it).
Miso / Soy sauce
There are some miso and soy sauces (fermented soybean seasoning) that are made following traditional recipes.
Igagoe Soy Sauce is a naturally brewed (matured slowly at natural air temperature) delicious soy sauce.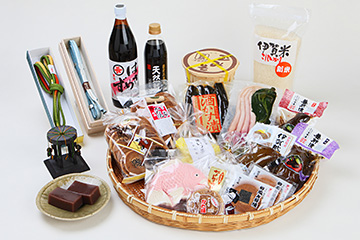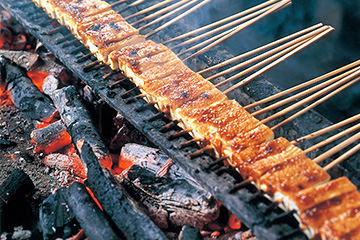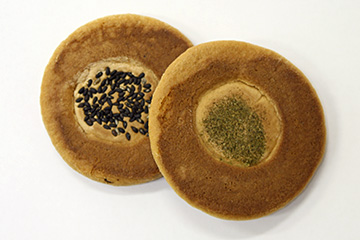 Please ask for details on the foods listed above at the on-site tourist information centers and hotels.