Other Local Specialties in Iga
Japanese Sweets
Japanese sweets are made following traditional recipes.
They look delicate and beautiful, and most of them are sweet.
Iga has many Japanese sweets shops with long histories.
Please enjoy a stroll through the town and finding these shops.
Tofu Dengaku
Grill tofu (very soft food made from soybeans) on a wooden skewer and eat with miso (fermented soybean paste)
Katayaki
Katayaki are sweets made from flour and sugar, and are said to be derived from a ninja's portable rations.
It is like an extremely hard cookie unique to Iga. It is said to be the hardest cookie in Japan, and as such is sometimes sold with a wooden hammer to crack the cookies with. It is light and lasts long, making it the most popular gift in Iga.
Tsukemono (Pickles)
Tsukemono are salty fermented vegetables, etc. that go well with rice.
Iga's Local Special tsukemono includes Yokan-zuke and Igagoe-zuke made of a gourd. It goes well with ochazuke (rice with green tea poured over it).
Miso / Soy sauce
There are some miso and soy sauces (fermented soybean seasoning) that are made following traditional recipes.
Igagoe Soy Sauce is a naturally brewed (matured slowly at natural air temperature) delicious soy sauce.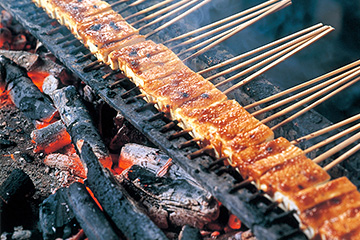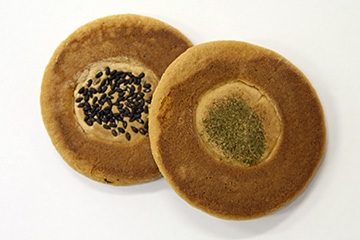 Please ask for details on the foods listed above at the on-site tourist information centers and hotels.